July 6e, 2022 – Hitachi Rail has invested £8.5 million to create bespoke welding and painting facilities at its Newton Aycliffe plant, extending its role in the UK from assembly-only to manufacturing and fitting out complete units – the first time in decades that a new train welding facility of this type has been established in Britain. The success of Atlas Copco's bid for the design and installation of the 450 meter compressed air and argon supply network played a significant role in the company's outsourcing of critical high value aspects added to its manufacturing process.
In 2015, Hitachi Rail's £110 million investment established its highly advanced North East manufacturing base with a workforce of 700 to build 122 pioneering trains under the Intercity Express program from the British government, as well as 70 zero-emission Class 385 regional trains for Scotland.
The new welding and painting facility now enables Hitachi Rail to complete construction of the high-tech aluminum wagon shells of the next generation of intercity trains for East Midlands Railway and Avanti West.
Commenting on the expansion project's contribution to production, Hitachi Rail facilities manager Colin Trevor said "We can now design, manufacture, paint, assemble and test trains at this facility, enabling us to be more globally competitive, with the ability to build a wide range of products, from metros to passenger trains. suburban and high-speed".
The role of Atlas Copco
The new welding and paint production facility is housed in a converted 194 x 40 meter warehouse adjacent to the main assembly area. Along with this development came the need for a compressed air supply for painting operations and an argon gas supply for TIG welding stations.
Wearside Pneumatics, the first distributor of Atlas Copco Compressors based in Gateshead, was called upon to produce the design, specify the piping system and carry out the installation of double ring pipes to connect the air and gas supplies from the existing assembly plant to new production stations.
The recommendation addressed to the production management of Hitachi Rail was two-fold: firstly, a 100 mm diameter circular aluminum pipe of 180 x 40 meters to supply compressed air at 7 bar at a flow rate of 474 l/ s (1,705 m3h) at 40 drops in the welding operation area. Alongside the need for air, the argon supply structure for supplying the welding stations would consist of a 35mm circular stainless steel pipe designed to deliver gas at a pressure of 7bar, at a flow rate of 20l/s (71 m3h), directly to 40 drops in the area of ​​the TIG welding process.
In addition, Wearside Pneumatics would also install a Unistrut channel containment at a height of nine meters, located between the factory overhead crane system and the factory roof.
The entire project required close coordination with the schedule and capital installation progress of the new facility and was completed in a total period of twelve months.
The AIRnet system – aluminum piping for industrial reliability
Although galvanized steel compressed air piping has been the industry standard for many years, major industry players around the world such as Hitachi Rail are replacing it with Atlas Copco's AIRnet – a network of aluminum components / lightweight and durable polymer that, by minimizing pressure drop penalties, contributes significantly to energy savings, air quality and production efficiency.
The steel pipe is heavy, its threaded joints require careful preparation, and its inner surfaces are not smooth. As a result, this restricts flow and promotes pressure drop, which equates to energy loss.
In contrast, Atlas Copco's lightweight and highly durable AIRnet modular network system of corrosion-resistant aluminum tubing, combined with fully sealed, self-aligning polymer fittings with integral O-rings, eliminates the possibility of costly leaks. – and they can be important. A pressure drop of 1 bar can lead to a 7% increase in energy consumption.
Size for size, AIRnet piping, constructed from ISO 8573-1 certified class 1:2:0 aluminum, weighs 5 times less than its steel equivalent. It is extremely robust and quick and easy to install. Installing the piping takes about a third of the time compared to a conventional system. Plus, there's no tedious screw cutting and no special tools or lifting equipment required. AIRnet hoses can be simply pushed into the polymer fitting, hand tightened and secured with a wrench. When the aluminum AIRnet pipe is cut to size, there is no risk of corrosion of the exposed metal and therefore no risk of leakage.
The AIRnet system offers piping with smooth, anodized internal surfaces as standard, which minimizes pressure drop penalties and plays a vital role in ensuring the air supply remains clean to protect downstream equipment and process control. sensitive production. In addition, the piping system can be connected to any existing network and can be modified easily to meet any changes in the layout of the industrial floor. AIRnet meets these needs with a wide range of interchangeable and reusable fittings designed to support layout and capacity upgrades.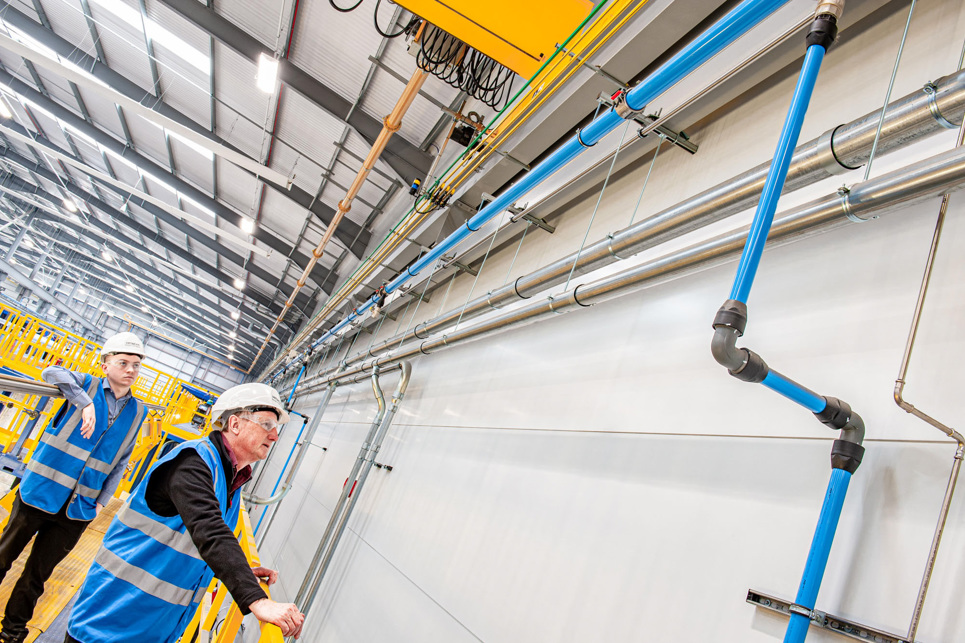 AIRnet stainless steel installation
Similar to the AIRnet aluminum compressed air network, the main 35mm argon supply ring in the new manufacturing area is constructed from EN10088 standard stainless steel with push-fit connection to achieve a non-corrosive system and durable which does not affect the quality of the gases transported. This minimizes maintenance costs and the costs of protecting downstream equipment, processes and applications. The system is designed to deliver decades of high performance that helps achieve strict quality control within production operations.
Performance and productivity benefits
Regarding Atlas Copco's product standards and the overall progress of the AIRnet pipe installation process, Colin Trevor said: "The company's cooperation and timing, along with the product quality, performance and productivity benefits of installing Atlas Copco's piping system were key contributors to the success of this project."
Editor's Notes
Hitachi Rail's growing leadership in battery-powered trains expands its potential opportunities. In 2020, the company partnered with Hyperdrive Innovation to develop batteries that can power trains and help the UK meet its Net Zero 2050 targets. This partnership is helping create a pathway for batteries to be installed at Newton Aycliffe and could make the North East a hub for battery technology.
Historical coincidence: the main assembly plant occupies over 31.5 acres of land and is located near where George Stephenson assembled Locomotion No. 1, the first locomotive to haul passengers on a rail line public.
For more information please contact:
Joanna Canton Long, Marketing and Communications Manager, Atlas Copco Compressors
+44 (0)1442 222240 or [email protected]
Dean Horn, Sales Manager, Wearside Pneumatics Ltd
+44 (0) 7713648009 or [email protected]
www.wearsidepneumatics.co.uk/
Danielle Burness, Account Manager, Publitek
+44 (0)1582 390980 or [email protected]